Twisted Metal PS3
Twisted Metal PS3 – Sony sure knows how to keep the spotlight on them. The company made a surprise announcement at the E3 Press Conference yesterday.
A brand new episode/version of the Twisted Metal series was unveiled and it is temporarily called Metal PS3 The title was developed under the direction of David Jaffe who showed the demo which will be oriented toward multiplayer battles (16 players) via the PlayStation Network and up to 4 split screen.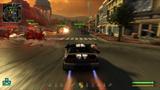 But Twisted Metal will also include a single player game for those who prefer the company of an AI.
The revamped Twisted Metal will be in high-definition ,it will have new game mode but the classic Capture the Flag will still be included.
They have added new land vehicles (truck, motorcycle) and air (helicopter) along with a decor will be more destructible and more eerie as you can see in the pictures and video above. The release is scheduled for 2011 exclusively on PlayStation 3.
That game looks like it can send a chill up one's spine.
Category: Gaming News